I love working with WordPress to create my websites. Why? Because anyone, even the non-techies, can easily create a website using WordPress. WordPress was originally built as a website for bloggers. These days some of the most famous brands use WordPress for their websites. Brands like Best Buy, Xerox, Fortune, Time, Inc. and more use WordPress for their websites. (Check out this website for a list of 40 brands that use WordPress for their websites)
WordPress is a great option to get your website up and running in no time at all. Now that you have picked out your WordPress template, let's get your real estate website up and running!
Please note, there are some affiliate links in this post. It helps keep the lights on for the blog but doesn't cost you anymore if you click or purchase using these links. It's all commissioned based just like you!
I want to explain the difference between your website URL being registered and your website being hosted. Your domain name is like your physical home address. It is where people go to look to find you. Your website host is like your house. People come into your house, talk to you, get to know you. Same with your website.
Domain Registrar=Address
Domain Host=House
Register with a Host
Total Time: 6 minutes
1. Choose a host (2 minutes)
When starting out I recommend hosting your website on BlueHost. For $3.49 a month you get unlimited domain hosting, hosting accounts and email addresses. Pretty good deal! BlueHost offers 24/7 support and has made it easy to install WordPress. They offer a 30 day money back guarantee so if their hosting is not what you want, you can cancel at anytime. There are many hosting companies out there so feel free to choose one that works for you. I am going to explain my instructions using BlueHost as an example.
2. Register or Point Domain Name (2 minutes)
Many people will have their domain name registered with one company like GoDaddy and then have the domain "point" to another company where their website is hosted. If you want to keep your domain registered with your current company and "point" it to BlueHost, enter your domain name under "I have a domain name." (At the bottom of this post I have instructions on how to point the domain name.)
If you don't already own a domain name, you can buy one now. It will be free with your hosting account purchase because you get a free domain with your new hosting account. 
Enter your new domain name in the "I need a domain name."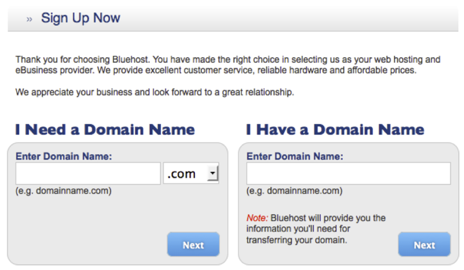 Tips for choosing a domain name:
Always use a .com
Don't add any punctuation like dashes (-) or underscores (_) or numbers
Don't choose a name that is easily misspelled
If you can use your own name do it!
If you can't use your name, choose a domain name that encompasses what you do. Make it broad but not too broad. Good=JoeSmithMNAgent.com Bad=JoeSmithLakevilleAgent.com
Stay away from trademarks like REALTOR
3. Set Up Account on BlueHost (2 minutes)
Next fill in your personal information to set up your account. If you are registering a new domain make sure to use an email address you already have access to when registering.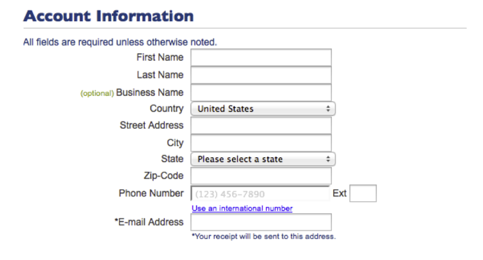 Then choose your hosting plan. BlueHost charges per year and you will get a better price the longer you extend your hosting. Remember you do have 30 days to cancel this if it doesn't work out.
I skip all of the adds-ons, but I do think BlueHost offers a great price for domain privacy. Like an old fashioned phone book, all your information that you submit to register your domain is public information. This includes your name, address and phone number. For safety reasons it is always good to lock down that information.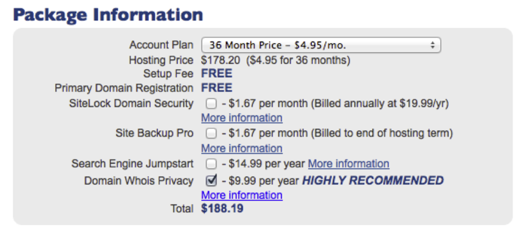 After you have filled in your information and chosen your hosting package, you can click Next to complete your purchase. Now you will be asked to create a password for your account. You can use the password generator to create a strong password, or create one yourself. It is required to have both capital and lowercase letters, a number, and a special character (?!#, etc.) in order to have a strong enough password to protect your account.
Now that you are all signed up and are able to log into your account, you will can install WordPress!
Installing WordPress
Total Time: 6 minutes
1. Login to BlueHost (1 minute)
Go back to BlueHost.com and login or use the link provided in the welcome email. When you login you will be directed to your cPanel. The cPanel is the administrative area for your hosting.
2. Initiate One-Click Install (1 minute)
In your cPanel, scroll to the section titled "MOJO Marketplace" and choose the icon One-Click Installs.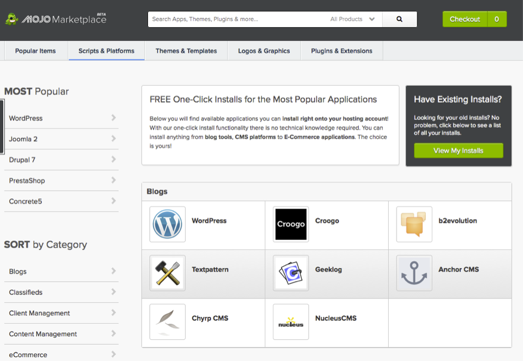 3. Choose where to install WordPress. (1 minute)
Next the installation window will open. Click on Start a brand new installation. This is going to start the WordPress installation process.
Select the domain that you registered on where you would like to install WordPress. Next click Check Domain, which will make sure the domain is assigned and pointing to your account. You may get a warning that you are overwriting files, but as long as you don't have another website built yet, you can check the box and continue. This is mostly to make sure that you really want to install in that location. If you do have other sites built, you will want to make sure you're not overwriting something important.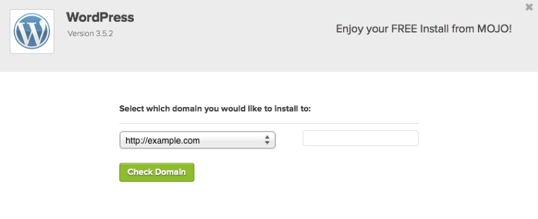 4. Set up your WordPress Info (2 minutes)
Select "Show Advanced Options." This section allows you to set up your own username and password for your WordPress install. Do not use Admin as is usually suggested on a WordPress install. Use your email address or a user name that you will remember. Also make you have a very strong password.
*Important* Make sure that the "Automatically Create a new database for this installation" box is checked. Check the box saying that you have read the terms and conditions. Then click Install Now.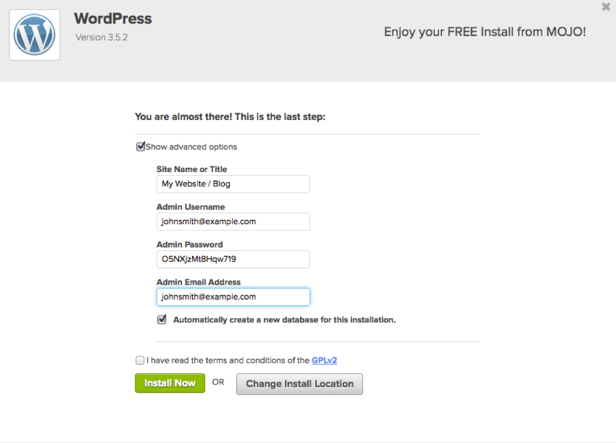 5. Progress (1 minute)
You will now see the progress page, which will show you how far along the installation is. Once WordPress is fully installed, it will provide you with your Site URL, the admin login URL, your username and password. You will get a copy of this information, except your password, in your email as well.

Congratulations! You just set up WordPress on your domain! Now login to your site and I will show you how to upload your theme!
Note about domain pointing
If your domain is registered somewhere else, you will need to point the nameservers to your website at BlueHost. You are basically telling your address where to find your house when you do this. When you change the nameservers you will also redirect your email to BlueHost. If you don't want to do move your email then you will just need to change your A records. Before you get nervous about this I suggest you contact the company where your domain is registered. They will walk you step-by-step through this process.
If you are changing the nameservers you will need input the following into your DNS file with your registrar:
ns1.BlueHost.com
ns2.BlueHost.com
Again, if you registered a new domain name with BlueHost you can skip this step.
Installing Your Theme
Total Time: 4 minutes
The last step will to install one of the themes that I recommended in the last post. The theme is what will make your website look like a real estate website.
1. Locate Your Theme (1 minute)
If you purchased a theme from ThemeForest, you need to download it from their website. Your theme will be in a zip file. Extract this zip file. Inside the newly extracted folder you will see another zip file with the name of your theme. This is the one you want to upload into WordPress.
A note about themes and child themes. The main theme is what you want to upload to WordPress first. If you have a zip file with your theme name and the word child added to it you will want to upload that one second. For an example see below:
2. Upload Theme (3 minutes)
Inside your WordPress dashboard go to Appearance–>Themes. 
Select Add New. 
Select Upload Theme. 
Select Choose Theme. Locate your zip file from step 1 above and choose that file. Then click Install Now. 
Once the installation is done click Activate to activate your new theme.
If you have a child theme, install it using the same instructions and then activate that theme, not the master theme.
Congratulations! You have now set up your brand new real estate website!